Speed networking is a fairly new concept based on the idea of speed- dating where you get to meet as many people as possible, in a short amount of time. Speed-networking has proven to be successful in the business sector and is now a popular component of many business conferences. A dynamic networking event where you are guaranteed the opportunity to discuss ideas and exchange contact details with many others.
Speed Networking event summary (Friday the 13th November 2009)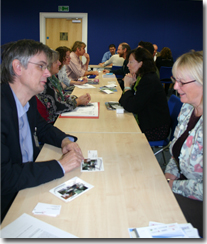 Despite the inauspicious date the event, devised and delivered by HWTMA was a great success! The event, funded by English Heritage through the Aggregates Levy Sustainability Fund, took place at the National Oceanography Centre in Southampton and was attended by educators and professionals from a wide variety of organisations. Some were relatively local while others travelled quite a distance to take part.
After a brief introduction and a very interesting talk by the guest speaker Julian Richards everyone sat down do take part in an intense and productive speed networking session. With 30 participants, all needing to meet each other individually, 4 minute sessions were arranged. Participants had been advised to bring at least 30 business cards and promotional material which they exchanged during their sessions.
The time rushed by and after a short lunch break, everyone was back networking again. Two sessions, almost three hours, and 30 people later all the tried but happy participants were served a glass of wine while being showed around HWTMA's brand new community outreach van.
Another Speed Networking event is planned for September 2010 and if this event is anything to go by, places are likely to book up early, so please contact Christin Heamagi if you would like to be contacted when the new dates have been arranged.
I look forward to the next speed networking event,
This was a really good idea! It was a good event- Well done!
It is easy to work "tunnel visioned" in your own organisation- it is great to be able to expand one's horizons and meet fellow professionals from elsewhere
Very well organised, much appreciated event
Excellent but exhausting!